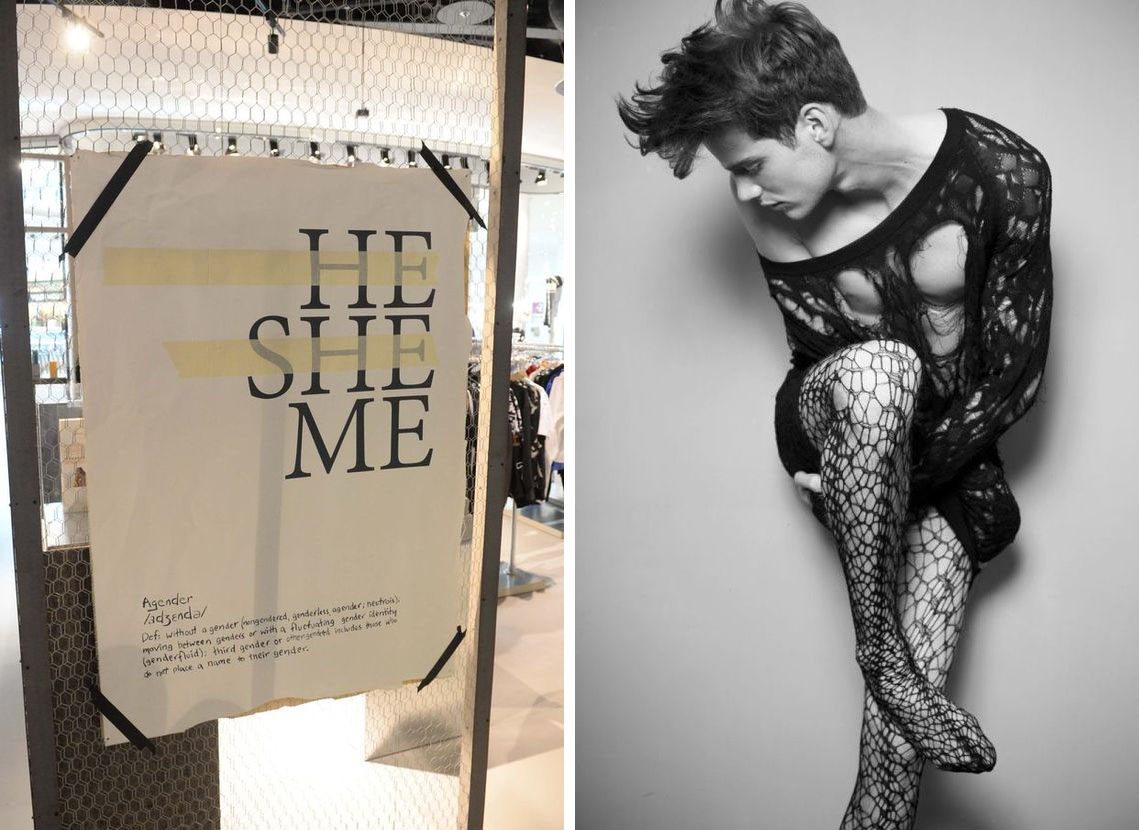 The move towards genderless clothes has been booming in the fashion world and the talk about creating inclusive designs and collections that are directed at both boys and girls seems never-ending. Unisex designs are, without a shadow of doubt, an emerging trend that will only become more pronounced in future years. The idea is to remove all old rules of fashion, so only one rule remains: Be free to be yourself!
When strolling through the exhibition "Tenue Correcte Exigee" at Les Arts Decorafitis Museum in Paris, you are able to acquire perfect insight into how fashion is an ever improving cycle. From the "blank generation" of the 70's, fashion has evolved into today's "winner generation" with substantially more power and freedom, but still with a lot more to be conquered.
Going further back to the French society of the 19th century, women wearing masculine clothing were considered to be engaging in transvestism and in fact needed to report to the police to obtain a permission if they intended to wear masculine clothes. It almost goes without saying that men with a desire to wear feminine clothes were even more restricted to do so with no option to ask for a "permission slip". In the 1920's the first major revolution arose when Gabrielle Coco Chanel began breaking down the barriers between men's and women's fashion by designing clothes for women inspired by men's garments and thereby changing the history and course of fashion.
The next important point in the chronological line of fashion history happened in the 60's, when the use of knitwear and jersey became popular due to the elastic properties which made garments adaptable to all body types – male and female. Unisex looks became fashionable through their form and materials, where a good example is Rudi Gernreich's Tunique and Pantalon (1968). The revolutionary spirit that flourished from the end of 1960's introduced freedom for all genders and paved the way for the concept of androgyny. Throughout history, subcultures have used fashion to shock and make a subversive statements: From Andy Warhol's "The Factory" to the chameleon David Bowie, the 70's were absolutely decisive for the creation of genderless fashion. The guys from "New York Dolls" were all heterosexual, but just felt like wearing what girls were wearing. Was that a problem? Absolutely not! Through the lyrics "You've got a mother in a whirl. She's not sure if you are a boy or a girl" from David Bowie's "Rebel Rebel" the picture of a breakdown of gender norms and fashion is beautifully painted.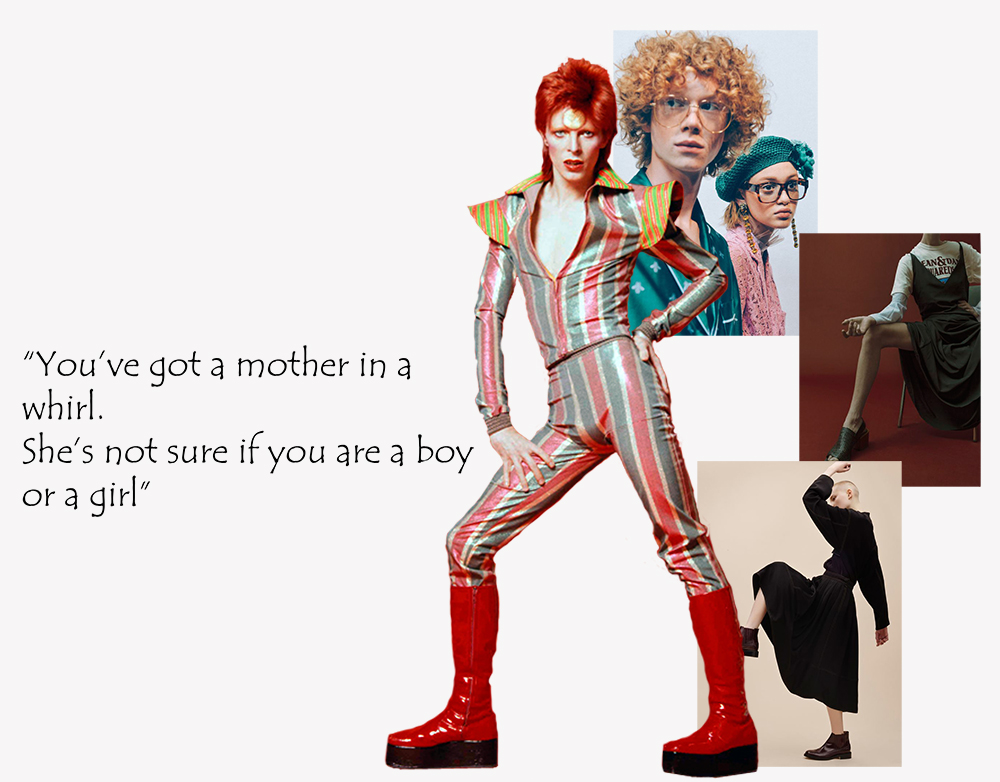 The popularity of unisex clothes since the turn of the century has rocketed and been an ever-present object of interest for designers at all kinds of brands. At the same time people are wearing whatever makes them feel good while the lines between menswear and womenswear become increasingly blurred as details and inspirations are shared more than ever. David Bowie's song could not be more relevant than in today's fashion world.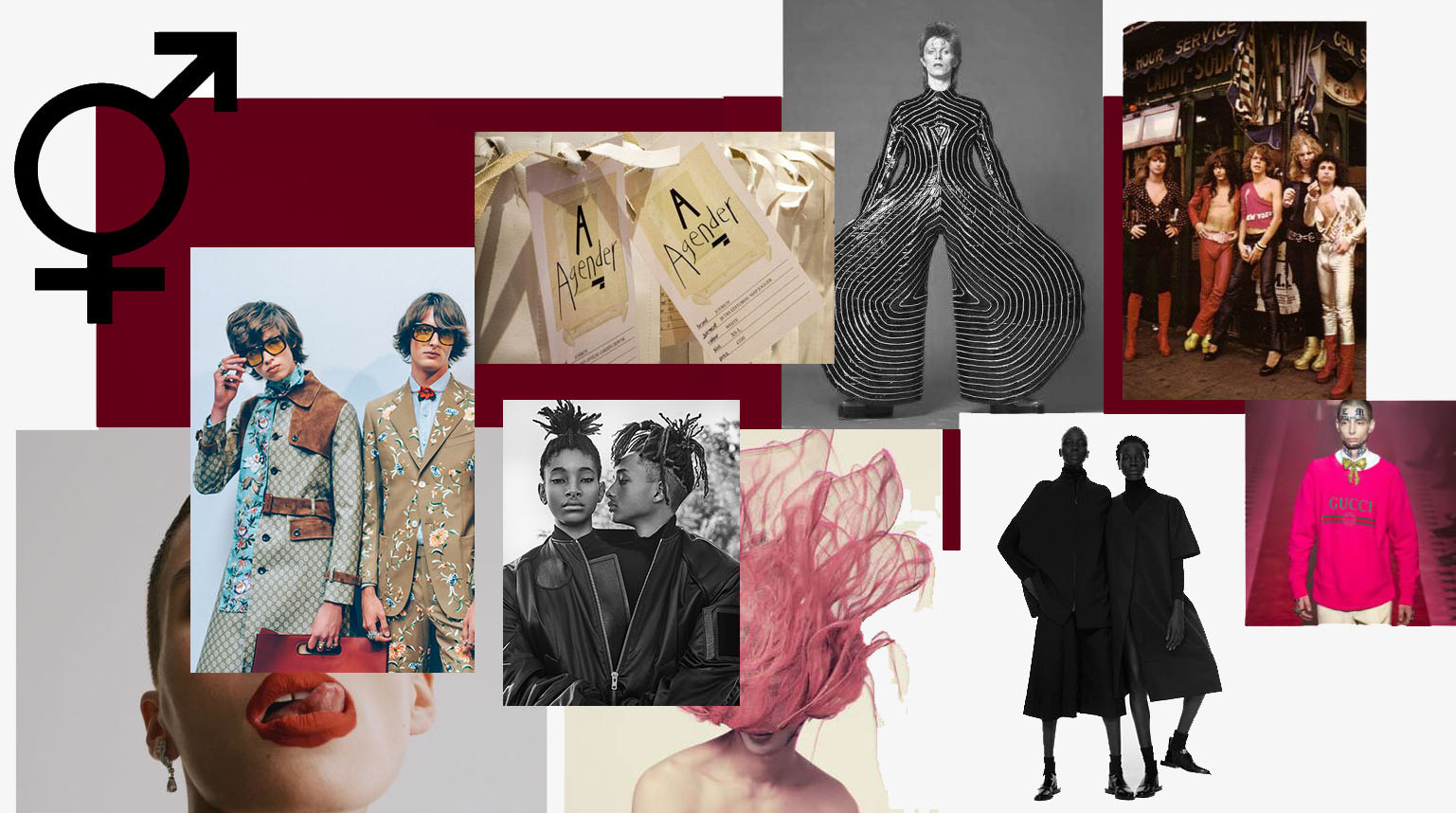 The insight into history tells us where we have come from, but how are we going to move forward? Unisex is no longer limited to subcultures but will become one of the strongest trends for the next years. There are several reasons why this is likely to happen: firstly, feminism has never been stronger than in the current political scene, secondly more Millennials identify themselves as LGBTQIA (Lesbian, gay, bisexual, transgender, queer, intersex and asexual) than seen in previous generations, thirdly, the idea of a sexual orientation and clothing necessarily being connected is outdated, lastly, a lot of people do not any longer feel the need to wear one type of clothing just because society dictates it, well-illustrated by Jaden Smith who continues the legacy of straight men following the genderless movement.
The view on the future is supported by that fact that many designers are shifting towards genderless or mixed-gender fashion shows, Gucci, Burberry and Bottega Veneta are just a few out of numerous examples. Designers like Rick Owens and Rad Hourani have designed genderless fashion for some years. Colour codes are being re-thought and a good example of this is the colour pink, which up until the 1950's was a masculine colour before it started getting a feminine connotation attached to it and at the present it is considered a colour for everybody. The last Première Vision in Paris highlighted suits, jumpsuits, oversized and the midi length as some emerging trends for 2018 – both for men and women. He, she, they, you, and me, we all the same and there are no rules, but to be yourself. Paraphrasing the cool guys full of beat from Liverpool, "You tell me that it's evolution, well you know, we all want to change the world."
And of course we all know the end of the song… it's gonna be all right.
Pictures: Internet
Article: Joicy Muniz